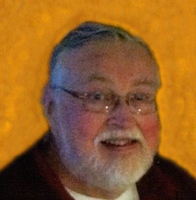 Lawrence P. Meddaugh
Lawrence P. Meddaugh, age 79, a resident of Candor passed away suddenly and in peace into the loving arms of his Lord and Savior, Jesus Christ, in the wee hours of the morning December 24, 2017. Larry was the eldest son of the late Elmer and Evelyn Green Meddaugh of Candor and later Endwell, NY.
Except for a few short years when he was a youngster, Larry remained a Candorite until he graduated from Candor Central School in June of 1956. During his high school years, he was the light manager for the senior play, a member of the JV Basketball Team, a member of the school's Track Team and he held membership in various school organizations such as the Science Club, the Art Club and the Projector Operators Club. He was also an acolyte at St. Mark's. In later years, he and his brother were readers in the church know as Prospect Valley Episcopal Church. He was also a member of the local Boys Scouts and often attended their camp in Ithaca.
After graduation from Candor Central School, Larry headed off to Ithaca College to study in the field of Physical Therapy. After a year of not fingin this particular field to pique his interest, he enlisted for four years in the Air Force working in the field of airplane instrumentation. After four years in the service, Larry headed off to Broome Tech where he received his Associates Degree in Electrical Engineering.
He worked in Rochester, NY for a short time after graduation, until he became engaged to Mary Joan Beebe in December of 1964. They set a wedding date for three years from the date of their engagment, due to the declining health of Joan's mother, Dorcas. They were married May 1, 1965 at the local Baptist Church in Candor, living at various residences in the town from 1965-1967. At that time, they moved to Arizona where their daughter was born in 1968.
After a year working at Motorola, they felt God's calling to attend Seminary in Portland, Oregon and by September of 1968, they headed out with their daughter and their meager belongings for Portland. After a few years of Seminary, Larry again changed fields and headed back into Electrical Engineering a field he felt quite comfortable in and one that sent him traveling to many states across the U.S.
In 2004, he finally retired and moved with Joan back to Candor. Retirement became increaseingly boring, so Larry took a job in Reading , PA that lasted a few months. Then he found a job that he truly loved. He and Joan worked together as editors and publishers of the Candor Statement from the fall of 2006 until the great flood of September 2011.
Early in 2012, Larry's health began to rapidly decline to the point he was hospitalized at least twice a month for end stage kidney disease, cellulitis and other diseases including the need for a pacemake in early 2009. Saturday evening, he went to bed early and sometime during the early morning hours of December 24, 2017 , he passed away.
His is survived by his wife of 52 years, Joan Beebe Meddaugh; their children, Ami Meddaugh Stribble and her husband Henry of Wilmington, NC and James P. Meddaugh and his wife Kirstie of Spencer, NY; grandson, Matt Newcomb and his wife, Annie, and their daughter, Avery; granddaughter Michaela (Kayla) and her boyfriend Tommy of Horseheads, NY; brother, Arlen Meddaugh and his family of Fairhaven, NY; sister, Christina Whitehead and her husband Alden and family of Long Island.
As believers, we know without a doubt that in God's own timing we will once more be reunited not only with Christ but also with our loved ones who have gone on before us. Funeral Services will be held at the Allen Memorial Baptist Church, 8 Church St., Candor, NY on Friday, December 29 at 11 AM. The family will receive friends at the church prior to the service from 10 to 10:45. Graveside services will be held on Thursday, May 17, 2018 at 1 :30 PM at the Maple Grove Cemetery in Candor. Condolences may be made to Larry's family at www.emfaheyfuneralhome.com.