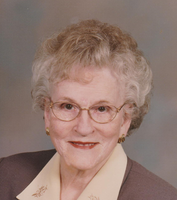 Anna Lee
Anna E. Lee, age 93, of Owego, New York, passed away on Monday, December 17, 2018, at Riverview Manor Nursing Home in Owego, New York. Anna was born on August 11, 1925 in Owego, New York, the daughter of Ruby and Cecil Tyrrell. She grew up in Owego and graduated from Owego Free Academy. Her work included Office Manager at the NYS Dept of Transportation, Owego, from which she retired in 1980. Anna was an active member in the Owego Methodist Church, a member and office holder in the Owego Chapter of Eastern Star, and worked on HS class reunions. Anna co-existed with severe arthritis for five decades, but did not let that slow her down. She was known as the "Cookie Lady" and her delicious homemade cookies made her a good will ambassador with everyone she met. And her Hawaiian cake was enjoyed at many church suppers. For 11 years, Anna traveled extensively across the US with her husband, Fred "Bud" Lee, the love of her life. Once retired, she took up knitting and was an avid crossword puzzle fan, always doing puzzles in ink. In her later years, she enjoyed the company of Marion Wise and Jean Dence (among others) in the Friday Lunch Bunch. She was empathetic to those in need and spent her life "paying it forward." Many could recount a story of Anna's kindness and would do the same for her. Anna is survived by two children: Dianne (Robert) Stam of Gilby, ND and James (Christine) Bedell of Parrottsville, TN; a brother, Murray Tyrrell of Boiling Springs, SC (formerly of Owego); seven grandchildren: Jennifer Stangl, Rebecca Durham, Sarah Courchene, Jessica Smolinsky, Amanda Bedell, Natalie Wagner, and Rachel Ontjes; and many great-grandchildren. She was preceded in death by her parents, son John Bedell, former spouse Charles Bedell, and her husband, Bud Lee.
A special thank you to, as mom always like to say, her "adopted children", Chris and Ted Koczan, who were her visiting angels. Also, a special thank you to her church family, especially, Lynne and Rich Hodges.
A celebration of her life will be held at the Owego United Methodist Church, with internment at the Gibson Corners Cemetery is planned for the Spring.